#K-3034-1
AccuPrep PCR Purification Kit
Price:
170
EUR
193
USD
131
GBP
Product name : AccuPrep PCR Purification Kit
Catalog number : K-3034-1
Quantity: 50 purifications
Availability: Yes
Supplier name : Bioner
Data sheet : Ask more or other datasheet now !
About this Product :
AccuPrep PCR Purification Kit
PCR kit use certain PCR kits can be used for diagnostics. We supply CE approved PCR kits or research PCR kits. You can request more information about the use of AccuPrep PCR Purification Kit to
[email protected]
http://mybiofast.com/ver.php?search=pcr&submit=Search
More Details about
Applications
Sub-cloning, Sequencing, Labeling, DNA concentration, etc
Procedure
Experimental Data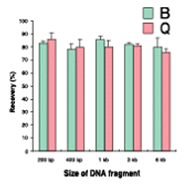 Fig. 1 Typical recovery
The figure shows recovery percentage after purification of DNA amplified by PCR.
The 70 % - 90 % of DNA were recovered regardless of DNA size(0.2 - 6.0 kb).
B; AccuPrep® PCR Purification Kit (K-3034, K-3034-1), Q; Competitor


Fig. 2 Recovery analysis of the purified PCR product
Lane M; Molecular weight marker, 100 bp Plus ladder (D-1035, Bioneer),
Lane 100 ~ 50; control DNA(100% ~ 50%),
Lane B; purified PCR product
Contact us about this product :
Our team will respond you as soon as possible !